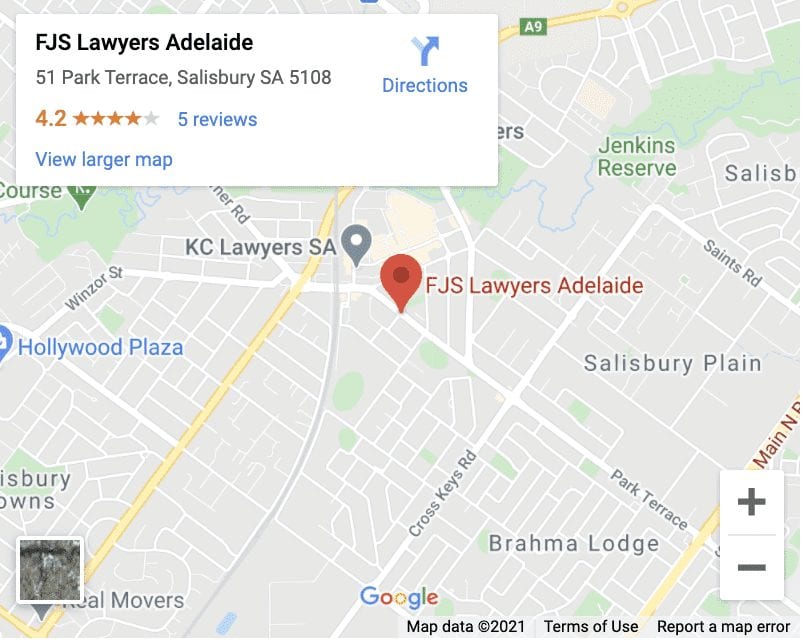 Based in Salisbury, South Australia.
FJS Lawyers has a wide range of expertise and experience in assisting South Australians in their legal matters
.
Our team is here to support you regardless of your situation and of-course we do offer
Legal Aid
services to those who need them
.
We believe
in providing a personalised service for every case we work on.
As every person and their situation can be so
vastly
different which is why each case needs to
be handled
with the utmost care
.
Our lawyers also understand how much of a stressful and overwhelming time that you may be going through
. We are here for you
If you are looking for a lawyer based in Salisbury then you have come to the right place, we are open at 2/51 Park Terrace, Salisbury
.
Our solicitors are more than happy to assist you with a range of legal issues from Family Law, to Wills & Estates, Personal Injury, Victims of Crime and Motor Vehicle Accidents
We offer fixed-fee services for most of the legal services we offer and do provide legal aid.
We offer friendly, professional and affordable legal services, with the flexibility of appointments on weekends, after-hours and by telephone for your convenience
.
Book an appointment to come meet with our team in Salisbury to discuss your individual needs further
Family Law
Family legal matters often
require
the utmost care and delicacy when handling such situations
.
Our Solicitors will try their best to assist in peaceful negotiations and reduce stress on all parties and children
. In what is the most stressful time in any persons lives. If necessary our lawyers will fight tooth and nail in family court for you.
Our lawyers take a personal approach to all legal services we provide. We aim to walk alongside you during your legal journey
Wills & Estates
Will and Estate planning is an essential planning process which is often forgotten about. Not setting out your Will or an Advanced Care Directive can cause a lot of unnecessary stress on your loved ones if unfortunate events were to happen. Having a Will formally created by an experienced lawyer ensures that your assets are divided up how you wish to take care of your loved ones after you pass.
Likewise, an Advanced Care Directive is an important part of ensuring that your wishes are taken seriously in the event that you are unable to advocate for yourself.